Chickpea pasta has been on the shelves for a few years now but is still a relatively new type of pasta that many of us may not be familiar with or may not have tried yet. It is a good option if you are looking to try a new type of pasta. It is also quite suitable for vegetarians who do not add chicken or fish to their pasta and for anyone else trying to get a little more protein out of their pasta dish. A two-ounce serving of chickpea rotini pasta provides 11 grams protein and 15% daily value for iron compared to 8 grams protein and 10% daily value for iron in the same amount of 100% whole wheat pasta. The only ingredient in this pasta is chickpea flour and it holds well after cooking.
The recipe below is easy to make, flexible in ingredients and provides a good serving of vegetables in the same meal.
Ingredients
½ box (4.4 oz) chickpea rotini
¼ cup olive oil
½ tsp minced garlic
1 medium yellow squash (chopped)
1 medium zucchini (chopped)
1 large red pepper (diced)
1 cup cherry tomatoes
2 cups broccoli (chopped)
3 large carrots (peeled & diced)
Salt to taste
Crushed red pepper to taste
2-3 tsp Italian seasoning
2 tbsp fresh basil (chopped)
¼ cup fresh parmesan cheese (grated, optional)
Directions
Cook the pasta according to package instructions. Keep aside.
Heat the olive oil in a large skillet. Add garlic and sauté until light brown.
Add yellow squash, zucchini, red pepper, cherry tomatoes, broccoli, and carrots. Add salt and crushed red pepper and mix well.
Sauté for few minutes until the vegetables are cooked to desired softness.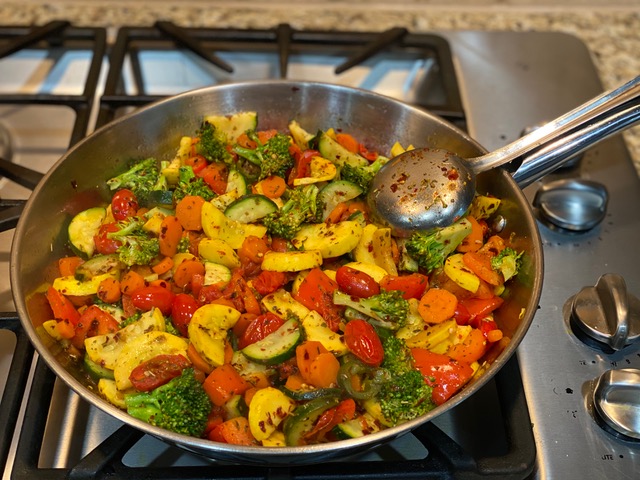 Add the cooked pasta, Italian seasoning and mix well.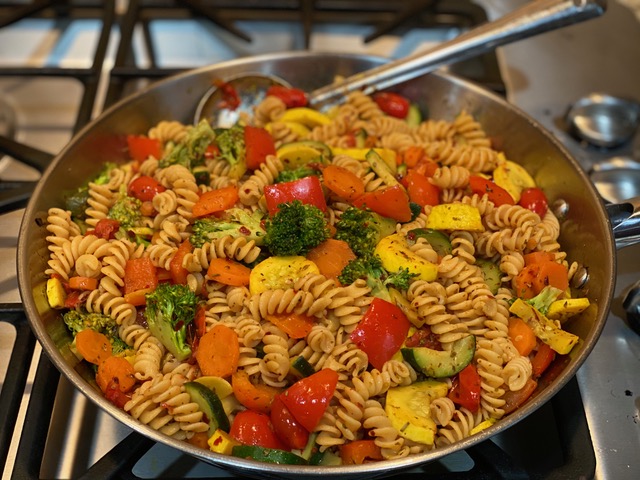 Sprinkle with fresh basil and Parmesan cheese (optional).
Notes:
Based upon taste preference and what is readily available, the vegetables listed for this recipe can be substituted with others such as spinach, mushrooms, onions, green/yellow/orange bell pepper, jalapeños, etc. The goal is to add lots of vegetables.
Basil pesto can be added before serving if more coating is desired. However, pesto will increase the calories so you may want to decrease the amount of olive oil used if you plan to add pesto.
Nutrition Information per Serving
Serving Size:
¼ th of the prepared recipe.
*Nutritional Information excludes Parmesan cheese for topping
Calories – 300
Fat – 16 grams
Protein – 10 grams
Carbohydrates – 34 grams
* Calculated using MyFitnessPal recipe analyzer, www.myfitnesspal.com/recipe/calculator
You might also enjoy:
Is sucralose making you eat more?
My favorite sprouted grain—Ezekiel English muffins
Don't miss another great blog: Subscribe Now