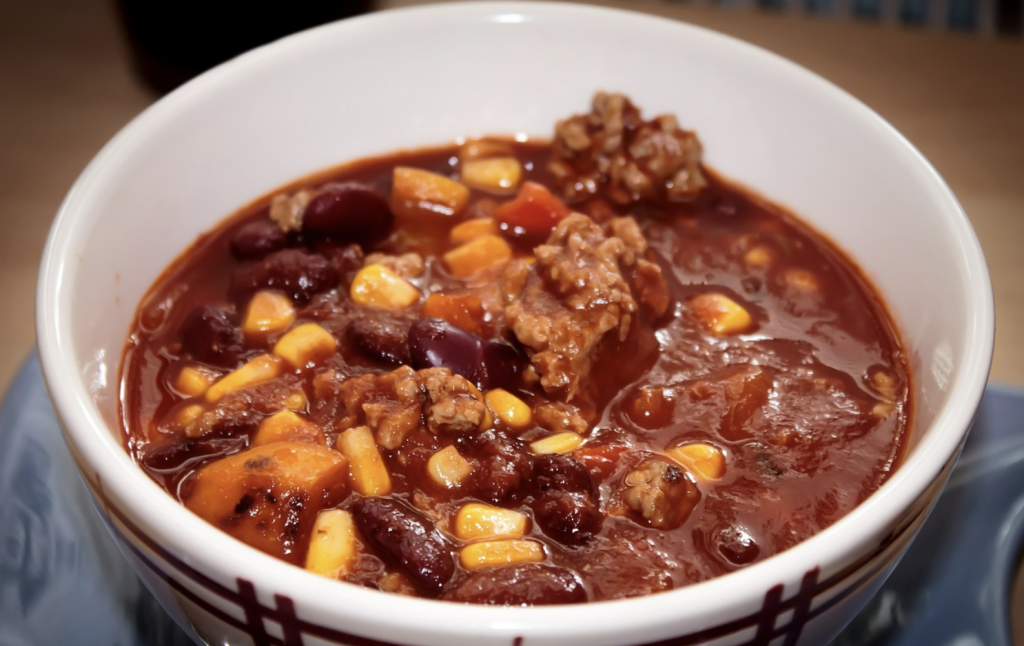 It is not officially Fall and the warm temperatures in North Carolina are a reminder of this fact. However, I've decided to manifest Fall all the same, which I am mostly blaming on the seasonal Fall items at Trader Joe's. I have already seen butternut squash more prominently displayed in the grocery stores and thought I would share this chili recipe from our colleagues at NC EFNEP.
Ingredients
Non-stick cooking spray
2 cups diced butternut squash (about ½ of a medium squash)
1 medium onion
1/2 pound extra-lean ground beef
1 cup or 1 (15-ounce) cans red kidney beans
1 cup or 1 (15-ounce) can black beans
3 cups or 1 (28-ounce) can chopped tomatoes
1 tablespoon garlic powder
1 tablespoon chili powder
2 teaspoons cumin
2 teaspoons onion powder
1 teaspoon red chili flakes
1 small bunch cilantro, leaves and stems separated
Shredded cheese and non-fat sour cream for topping (if desired)
Directions
Spray Dutch oven or large pot with non-stick cooking spray.
Peel and chop butternut squash into a medium dice (discard the skin and seeds) and set aside.
Peel and dice onion.
Place chopped onion and pepper in skillet.
Cook ground beef and onion over medium heat in a non-stick skillet until meat is browned and onion is soft (about 5 minutes). Drain.
Add butternut squash, undrained red kidney beans, undrained black beans, tomatoes, garlic powder, chili powder, cumin, onion powder, red chili flakes, and chopped cilantro stems to cooked ground beef and onions. Stir to mix well.
Bring to a boil and cook slowly for 10-15 minutes. Stir several times to be sure chili is not sticking to the pot. (Temperature should reach 160°F.)
Top with cheese and non-fat sour cream if desired. Garnish with cilantro leaves.
Nutrition Information per Serving
Recipe serves 4
Serving Size: approximately 20 ounces
Calories: 430 calories
Fat: 6 grams
Sodium: 970 mg *
Carbohydrates: 63 grams
Fiber: 20 grams
Sugar: 9 grams (Includes 0g Added Sugars)
Protein: 32 grams
*You can rinse and drain canned beans to reduce the amount of sodium
You may also enjoy:
Easy Side: Lemon Artichoke Quinoa Salad
Smart Start for the Holidays: Slow Cooker Steel Cut Oats
Don't miss another great blog: Subscribe Now