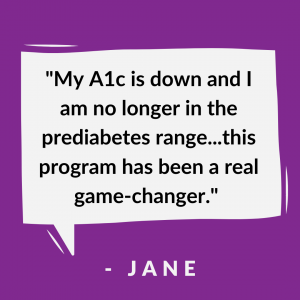 Below is a testimonial from a current Eat Smart, Move More, Prevent Diabetes participant:
I am just about to complete Phase I of the Eat Smart, Move More, Prevent Diabetes program. I have attended the Thursday evening class with Heather. She is an amazing teacher and motivator. I joined this class not just to lose weight but I do NOT want to develop type 2 diabetes. My brother currently has very bad health issues related to diabetes. I participated in the Eat Smart, Move More, Weigh Less program several years ago and did not really take things seriously. I even joined Weight Watchers a couple of years ago and lost weight and gained it right back. When I heard about this class via email, I took the quiz and I was shocked to see that I had risk factors for prediabetes. I had my A1C checked and the nurse said yes, you are borderline so stop bread and sweets and it will come down. Honestly, this news upset me and I knew I had to get serious. I went for a checkup with my doctor on December 1st and my A1C is down to 5.5 and she said I am no longer in the prediabetes range! Also, I have lost close to 27 pounds since June and almost 20 of that was since starting this class in July. I am excited about starting Phase II of the program and I hope to get the next 20 pounds off by July 2021.
This program has been a real game-changer for me and I owe so much to Heather's leadership. Thanks!
– Jane, a current Eat Smart, Move More, Prevent Diabetes participant
You may also enjoy:
"I have lost over 20 lbs and my A1c has improved."
"Eat Smart, Move More, Prevent Diabetes made a difference in my life!"
"I finally realized I needed to do something about my health"
Don't miss another great blog: Subscribe Now