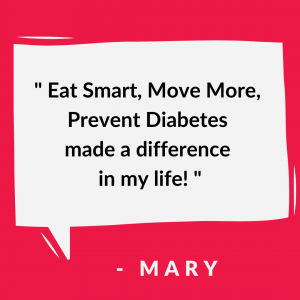 Below is a testimonial from a past Eat Smart, Move More, Prevent Diabetes participant:
I am motivated to continue developing a healthy lifestyle for years to come! During the Eat Smart, Move More, Prevent Diabetes program, I lost 20 pounds (more than 10% of my starting weight), decreased my waistline by 2 inches, lowered my blood pressure, and reduced my BMI by 3 points.
ESMMPD made a difference in my life!
I am surprised that I find it so easy now to walk 10,000 steps a day for 5 days during the week and enjoy it. Inspired by my success, I am and will continue to set new goals and strategies for healthy eating and a host of other behaviors that I learned are important for developing a healthy life. To stay on track, I invested in electronic measuring, monitoring, and recording my daily activities, weight, blood pressure, and sleep. I am very pleased with the comprehensiveness of the program, and its resources that make it possible for participants to continue on a path of healthy living. Thus, I recommend this program highly for others who are seeking strategies to improve their health. It works! Finally, I thank my instructor, Lauren, for her excellent presentations and encouragement throughout the program.
– Mary, a past Eat Smart, Move More, Prevent Diabetes participant
You may also enjoy:
"I have lost over 20 lbs and my A1c has improved."
"I feel better and exercise more!"
"I finally realized I needed to do something about my health"
Don't miss another great blog: Subscribe Now