My criteria for a weeknight meal: Quick. Easy. Healthy. How can I get a plate on the table in a short amount of time, cook while keeping an eye on my busy infant, and make sure it's a dish I feel good about eating? I have a few recipes that fit the criteria and that we keep in weekly or bi-weekly rotation. One of them being these Korean Turkey Lettuce Wraps. We make these all the time as it is one of my husband's favorite meals and it is SO quick and easy.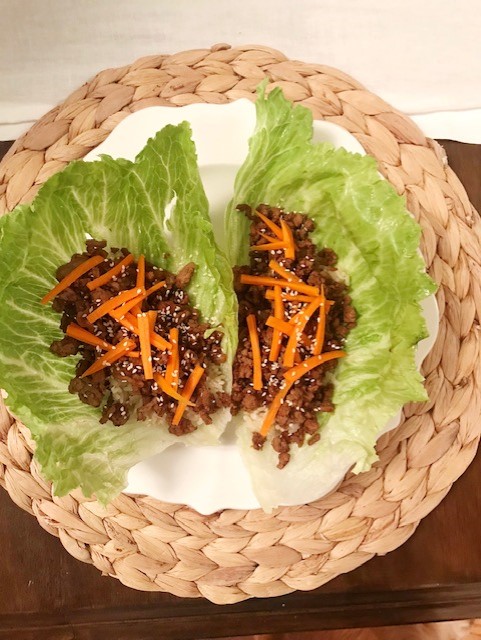 Korean Turkey Lettuce Wraps
Adapted from skinnytaste.com and the Skinnytaste Fast and Slow Cookbook
Ingredients
6-8 outer lettuce leaves such as Iceburg, Romane, or Bibb lettuce
1 pound ground turkey (or can use ground chicken)
2 cups cooked brown rice
1/2 onion, diced
1 clove or 1 teaspoon minced garlic
1 teaspoon fresh grated ginger
1/4 cup low sodium soy sauce
1 teaspoon brown sugar
1 teaspoon toasted sesame oil
Sprinkle of red pepper flakes (up to 1/2 teaspoon if you like it spicier)
1/2 Tablespoon sesame seeds for topping
Drizzle of Siracha (optional)
For quick pickled slaw on top (optional)
1 cup shredded carrots
2 radishes, cut into matchsticks
6 tablespoons distilled white vinegar
1/4 cup granulated sugar
1/4 teaspoon salt
Instructions
Combine the soy sauce, brown sugar, toasted sesame oil, and red pepper flakes in a small bowl. Set aside.
Heat nonstick pan over med-high heat and add the ground turkey. Cook, breaking the meat up with a spatula or wooden spoon, until meat is cooked through and no longer pink. Add the onion, garlic, and ginger and cook for 1-2 minutes. Pour the sauce over the meat and let simmer on med-low for 5 minutes.
To assemble the lettuce wraps, place 2-3 Tablespoons brown rice over each leaf, top with 3 1/2 Tablespoons of turkey. Sprinkle with sesame seeds and siracha if desired. Top with picked slaw. Wrap the lettuce around the meat and eat as little bundles right away.
Nutrition Information per Serving
Serving Size: 6-7 ounces
Calories: 240
Fat: 7 grams
Sodium: 670 mg
Carbohydrates: 29 grams
Fiber: 2 grams
Protein: 19 grams
Sugars: 10 grams (Includes 9g Added Sugars)
You may also enjoy:
Easy Weeknight Meal: Burrito Bowls