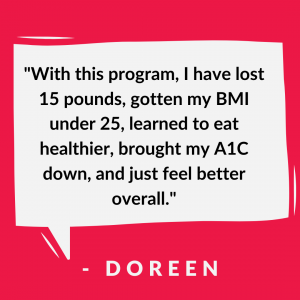 Below is a testimonial from a past Eat Smart, Move More, Prevent Diabetes participant:
I can't believe my year with Eat Smart, Move More, Prevent Diabetes has come to a close. I'm so glad I stuck with this program and my instructor. I have tried many diets and lost weight only to gain it back. With this program, I have lost 15 pounds, gotten my BMI under 25, learned to eat healthier, brought my A1C down, and just feel better overall.
I still have some weight to lose, but now have the tools to do it in a manner that will last. The two things that have had the most impact on me is reading labels and portion size. Portion size made a big difference for me. My husband fills his plate so I guess I thought I should too. Not any more! I will continue to implement the knowledge I have learned from this program and keep my weight and A1C under control!
– Doreen, a past Eat Smart, Move More, Prevent Diabetes participant
You may also enjoy:
"I have lost over 20 lbs and my A1c has improved."
"I feel better and exercise more!"
"I finally realized I needed to do something about my health"
Don't miss another great blog: Subscribe Now