A warm bowl of oats topped with fresh fruits and/or nuts is the perfect breakfast for cold winter mornings. Steel cut oats are the least processed as compared to other types of oats and may provide longer satiety making them a great choice for breakfast. However, they take longer to cook as compared to other varieties which can be a hurdle for busy morning times. Worry not – the recipe below takes the baby-sitting out of the process. You can put everything in and let the Instant Pot do the work. Whether you use that time to get ready for work, go out for a walk or take care of other tasks, the oats will be ready without any supervision.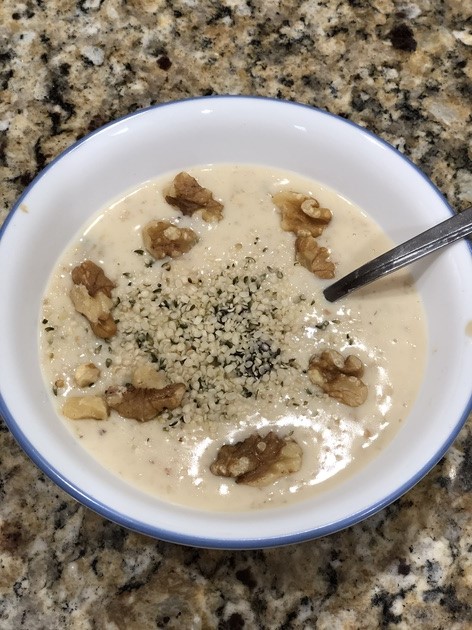 Instant Pot Steel Cut Oats
Serves 4
Ingredients:
½ cup steel cut oats
3 cups milk (this recipe was made using 2% milk but it can be made with 1% milk as well)
¼ cup California raisins
3 tsp brown sugar
½ cup water
Directions:
Put all ingredients in the Instant Pot and mix once. Close the lid. Make sure the pressure valve is turned towards sealing.
Put it on Porridge (or high Pressure Cook) mode for 13-14 minutes.
Let the pressure release naturally before opening the lid.
Stir well and add some water if needed to adjust the consistency to your liking.
Serve warm.
Note: You can add a variety of toppings to individual servings according to taste and what you have on hand. Options include fresh berries, sliced banana, chopped walnuts, sliced almonds, hemp seeds, peanut butter, etc.
Nutrition Information per Serving (excluding any toppings)*:
Calories – 200
Fat – 5 grams
Protein – 9 grams
Carbohydrates – 32 grams
* Calculated using MyFitnessPal recipe analyzer, www.myfitnesspal.com/recipe/calculator
You may also enjoy:
The Fastest and Easiest Way to Cook Steel Cut Oats
Bring Your Own Healthy Breakfast: Travel Oatmeal
Don't miss another great blog: Subscribe Now