Eating healthy while traveling can be tough. Whether it's for one night or one week, being away from home can mean more eating out at restaurants – sometimes for every meal! To eliminate eating out for every meal, I have started bringing my own breakfast every time we travel. It has been a simple change that has really made a big difference. Now, I can start the day on the right foot – with a healthy choice that helps me stay on track the rest of the day. In addition to the calories this has saved, it's also saves time and money. No more waking up and wondering where, and when, we will eat breakfast before starting the day's activities. I bring this breakfast literally everywhere I go – on a weekend getaway, to my parent's house, and even on a weeklong trip in Europe!
So what is this easy-to-travel-with breakfast? A packet of plain instant oatmeal mixed with peanut butter. I pour the packet of instant oatmeal into a bowl (borrowed from the house we are staying at or from a hotel – a sturdy paper coffee cup works too), add a little bit of water, pop it in the microwave, and then mix in a dollop of peanut butter. If there is milk available, I will pour a little bit of milk on top too.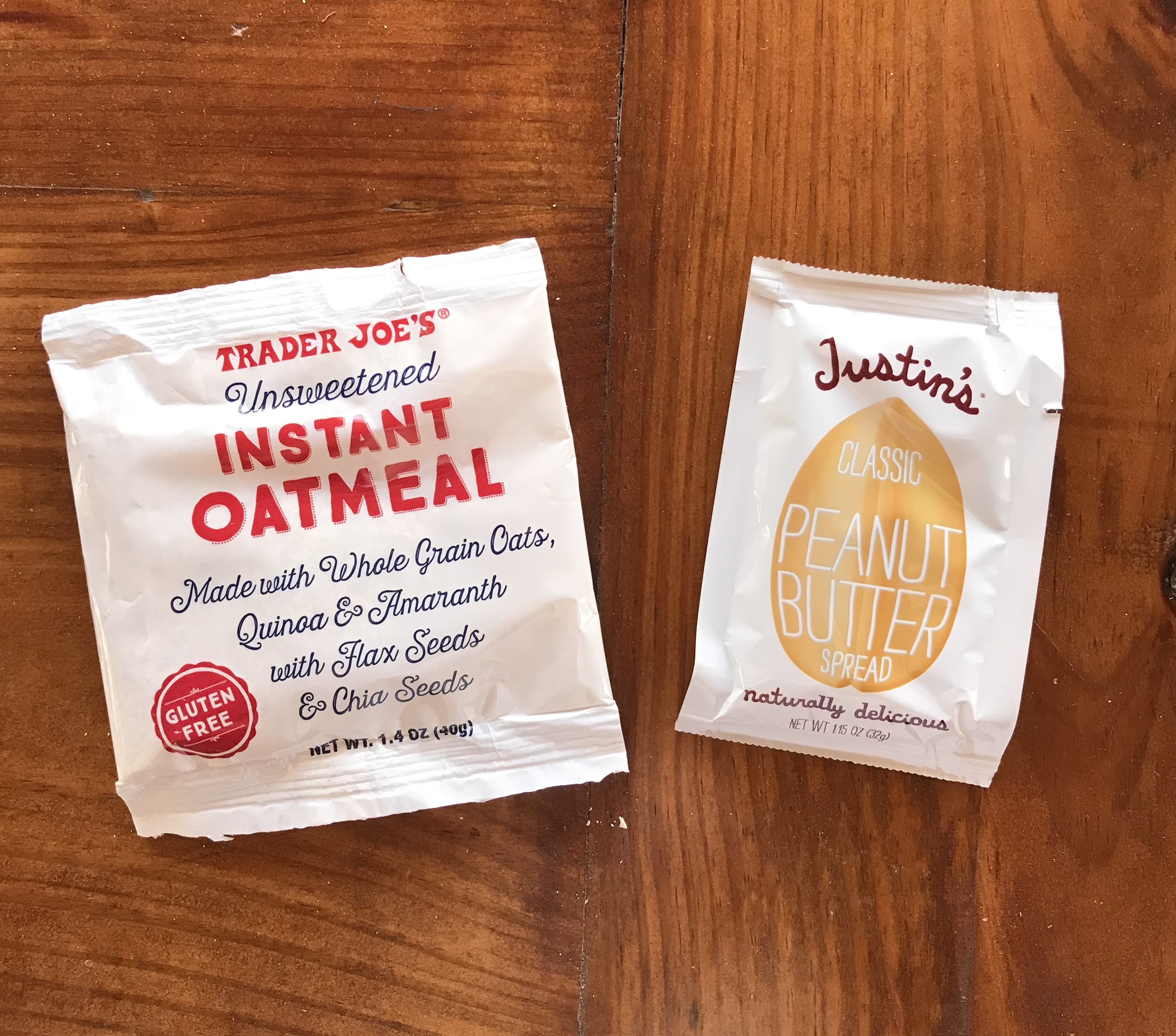 The above works if you are at a friend's, family member's, or an Airbnb with a microwave available. If you are at a hotel and there is no microwave, you can use hot water from a coffee station, cover it with a second bowl (or a second sturdy paper coffee cup) and let it sit for a minute or two.
My favorite oatmeal to bring is a packet of Trader Joe's instant oatmeal because it also had other grains, such as quinoa, flax, and amaranth, which gives it a more dynamic flavor and texture. I only choose plain oatmeal options because the flavored varieties are very high in sugar. However, if you are used to sweeter oatmeal, transitioning to plain might take a few tries – I started my transition to plain by adding a small squirt of honey or pure maple syrup when I first made this and then would use less and less every time until I felt like I didn't need it anymore.
Now to address the traveling with peanut butter part. If I am going longer than a night or two I actually pack a small jar of peanut butter with me (a natural but also shelf-stable option). If I am traveling just for a night or if I am really short on space, I pack travel peanut butter packets. A packet of plain instant oatmeal and a packet of peanut butter take up zero extra space – and I am set for a healthy breakfast!
How to Make Your Own Travel Oatmeal:
1 packet of plain instant oatmeal (I prefer Trader Joe's brand)
1 spoonful of natural peanut butter (or a packet)
Hot water and/or microwave
Optional: top with milk or a small squirt of honey
Directions:
Heat oatmeal according to package directions. If a microwave is not available, use boiling water and place a second bowl on top to cover and allow to sit for one to two minutes.
Stir in one spoonful of peanut butter.
Top with milk and other optional toppings if available such as a squirt of honey, nuts, or fruit.
Already traveling without access to oatmeal and peanut butter? Many restaurants, hotels, and fast food joints now offer oatmeal – just make sure you ask for it plain and then sweeten it yourself.
You may also enjoy:
Quick Breakfast Idea: Muffin Pan Quiche
How to Make Sense of the Different Types of Oatmeal
Tips for Staying Healthy While on the Road
Don't miss another great blog: Subscribe Now