May is International Mediterranean Diet Month (or #MedMonth) which highlights the Mediterranean-style eating pattern. The Mediterranean Diet focuses on fruits, vegetables, legumes, whole grains, and lean meats. It's not only backed by research, but it is also delicious and satisfying which makes it a popular eating pattern for many. There are several Med-inspired recipes on our website as well as our sister website MEDinsteadofmeds.com, but if you want to "dip your toes" in the pool of the Mediterranean diet, the recipe below is a great place to start.
The reason this recipe fits into the Med-style of eating is that it is loaded with vegetables (cucumber, tomatoes, peppers, onion), the tortilla is whole wheat, and contains a good source of protein (chickpeas). Finish it off with some spices and oil/vinegar and you have yourself a Med meal! I have been using this recipe a lot for my lunches since it is so quick and easy to put together.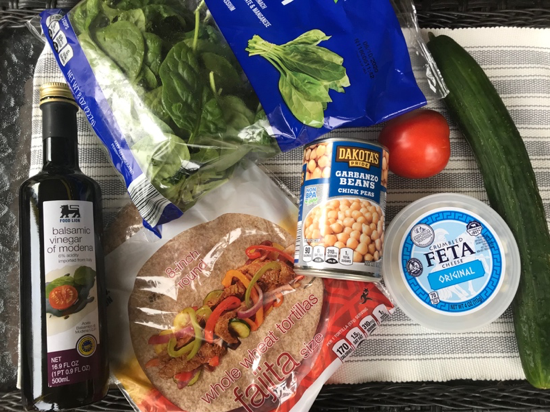 Ingredients:
1 15 oz-can chickpeas
¼ cup English cucumber
¼ cup Feta cheese (crumbled)
½ ripe tomato
¼ cup red pepper
¼ cup red onion
2 Whole-wheat tortillas
1-2 teaspoons olive oil
2 teaspoons balsamic vinegar
½ teaspoon oregano
½ teaspoon basil
¼ teaspoon paprika
½ teaspoon salt
¼ teaspoon pepper
Directions:
In a large skillet, heat 1 teaspoon olive oil over medium heat.
Drain and rinse chickpeas and add to skillet.
Add salt, pepper, paprika, basil, oregano, and balsamic vinegar and mix well
Allow to cook for 5-10 minutes until heated
Meanwhile, heat a whole wheat tortilla in the microwave for about 30 seconds and chop the cucumber, tomatoes, onion, and pepper.
Assemble wrap by placing the desired amount of chickpeas into the wrap.
Sprinkle with crumbled feta cheese
Top with tomatoes, cucumber, red onion, and red peppers and roll into the wrap.
Serves 2
Nutrition Info: Calories 385 kcals; Fat 11.3g; Carbohydrates 26.6g; Protein 6.2g
You may also enjoy:
Meal Prep Mediterranean Lunch Salad
Quick Weeknight Dinner Recipe: Kale and White Bean Pasta
Meal Prep Mediterranean Chicken
Celebrate Memorial Day the Med Way
Don't miss another great blog: Subscribe Now