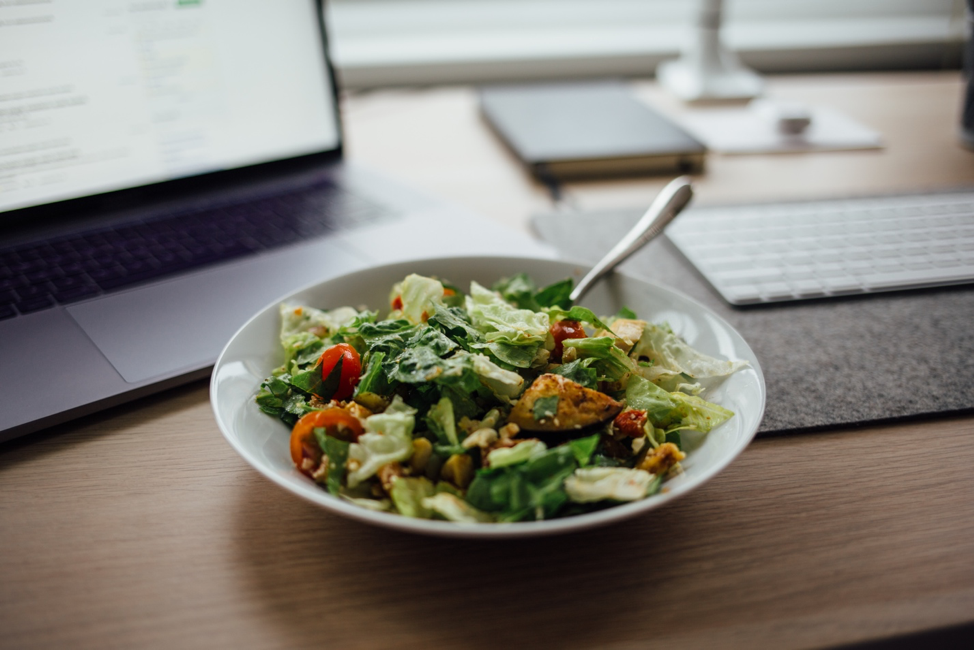 Whether you are self-quarantining or following your state's stay-at-home order, many of us are probably home more than we used to be. In some ways this can be a good thing as we now have the chance to do some projects such as deep cleaning the kitchen, reorganizing a closet, or trying new recipes. Maybe you are working from home now and are establishing new routines (read more about Best Practices While Working from Home).
With any major change there can be some not-so-great habits that start creeping up. For me, I have caught myself mindlessly snacking since this all started. I don't have to leave my house for work anymore, so I'm not packing my usual pre-portioned snacks or lunches. Whenever I take a break at home, I seem to wander into the kitchen and start munching on the first thing that I see, sometimes without even realizing it. However, just because my daily routines have changed, doesn't mean I can't continue with healthy eating habits. I want to continue my mindful eating practices from before, but they may look slightly different now while working from home. Here are some tips that I'm trying to implement to practice mindful eating:
3 Ways to Eat Mindfully at Home
Meal Prep. When I had to leave my house to go to work or school, I would bring a packed breakfast or lunch from home out of necessity. Even though I now have access to my home kitchen 24/7, I am still trying to meal prep my lunches. Why? Because this is a small way that I know I can influence my eating habits with a meal that is healthy (instead of slapping together something that may or may not be) and pre-portioned, preventing the tendency to overeat. 
Screen Time. Working remotely necessitates using a laptop for most of the day, however I can control my screen time during my breaks. Instead of working on my laptop while I'm eating lunch, I can get up from my desk and eat my lunch away from screens (even my phone). This allows me to give my full attention to enjoy my food and recognize when I'm full. 
Move Breaks. Like I mentioned before, I tend to wander into the kitchen when I take a break. Instead of heading straight for the kitchen to find something to eat, I'm trying to focus on moving more during my breaks. If it's nice outside, I take a lap around my house. If I need to stay inside I try doing some yoga stretches or even squeeze in a 10-minute work out (using these Free Ways to Exercise at Home). For me, the focus isn't on the specific exercise, but more so on finding some way to be active during whatever time I have for a break. 
I'm trying to make these changes as part of my new normal and hopefully this will help someone else that may be struggling with mindless snacking too. Let me know in the comments if you have other strategies that have helped you to practice mindful eating!
Have you been diagnosed with prediabetes or concerned that you are at risk for developing type 2 diabetes? We are here to support you now. See our upcoming class offerings for our online CDC-recognized diabetes prevention program now!
You may also enjoy:
Celebrate National Nutrition Month with Meal Prep
Meal Prep: Slow Cooker Mediterranean Chicken
Meal Prep: Mediterranean Lunch Salad
Meal Planning 101: A Step-by-Step Guide
Don't miss another great blog: Subscribe Now