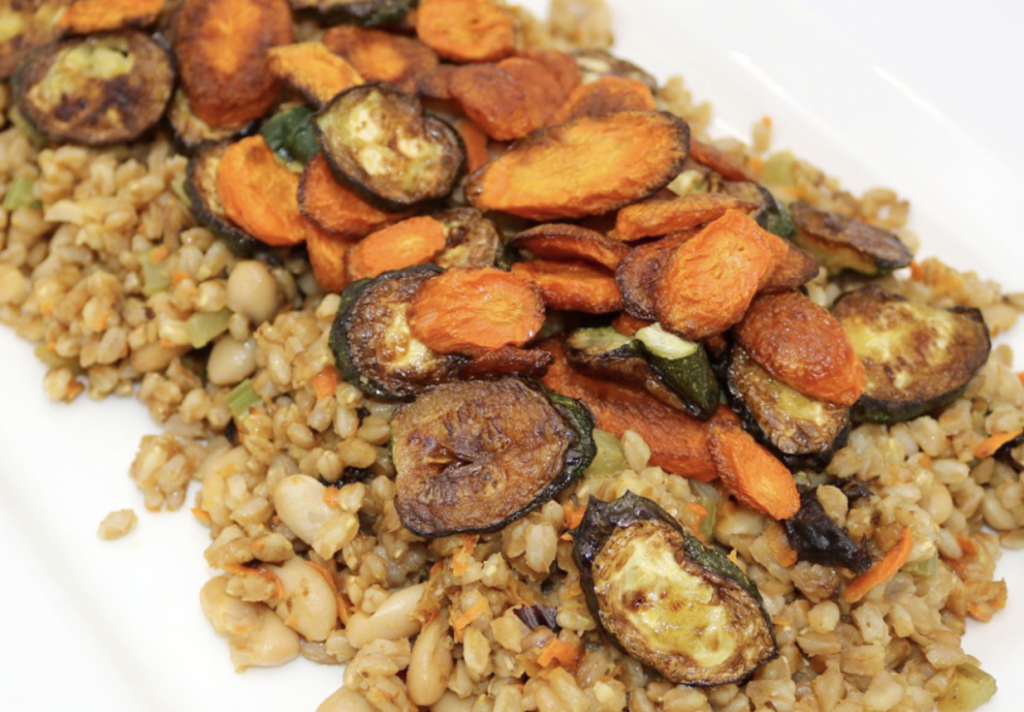 If you have never tried farro, this is a great way to start. Farro gives this salad a wonderful texture. You can, however, use another grain you may have on hand such as brown rice, barley, or bulgur. This recipe uses roasted carrots and zucchini. However, you can use any roasted vegetable or even leftover roasted vegetables. It makes a beautiful dish for a buffet or to take to a shared meal.
Tip: Cook the farro to yield about 4 cups cooked. This is about 1½ cups of dry farro. Try cooking the farro using the pasta method. Rinse uncooked farro and add to a large pot. Add water to cover the farro plus about 3 or 4 inches. This is more water than the faro will absorb. Cook for about 45 to 55 minutes, or until tender. Then drain as you would pasta. 
Serves: 8
Serving size: 1/8 of recipe
Prep time: 15 minutes
Cook time: 45 minutes
Total time: 60 minutes
Ingredients
Roasted Vegetables
1 pound carrots
2 small or 1 large zucchini
1 tablespoon olive oil
1/2 teaspoon kosher salt
12 teaspoon pepper
Farro Salad
4 cups cooked farro (see above for cooking method)
2 tablespoons olive oil
3 large carrots, shredded (about 1 ½ cups)
3 celery stalks, diced
1/4 teaspoon salt
Pinch red pepper flakes
1 15-ounce can cannellini beans (or another white bean), drained and rinsed well
1/2 cup prunes, cut into small strips (about 8 prunes)
Juice and zest of 2 lemons
Directions
Preheat oven to 375 degrees.
Slice carrots and zucchini on a diagonal into 1/4-inch slices.
Place on a sheet pan. Toss with olive oil, salt, and pepper.
Roast for 45 minutes, tossing halfway through.
Cook farro according to package directions to yield 4 cups of cooked grain.
Heat the remaining olive oil in a large sauté pan. Add the carrots and celery when the oil is hot and cook for 10 minutes or until the vegetables are tender. Add a few tablespoons of water if needed.
Add salt and red pepper flakes. Stir to combine.
Add the cooked faro, beans, prunes, lemon zest, and lemon juice to the pan. Stir to combine and heat through.
Place the faro mixture in a large bowl or mound onto a platter.
Top with roasted vegetables and serve.
Nutrition Information per Serving
Calories – 173
Protein – 4 grams
Total Fat – 6 grams
Carbohydrates – 29 grams
Total Sugars – 9 grams