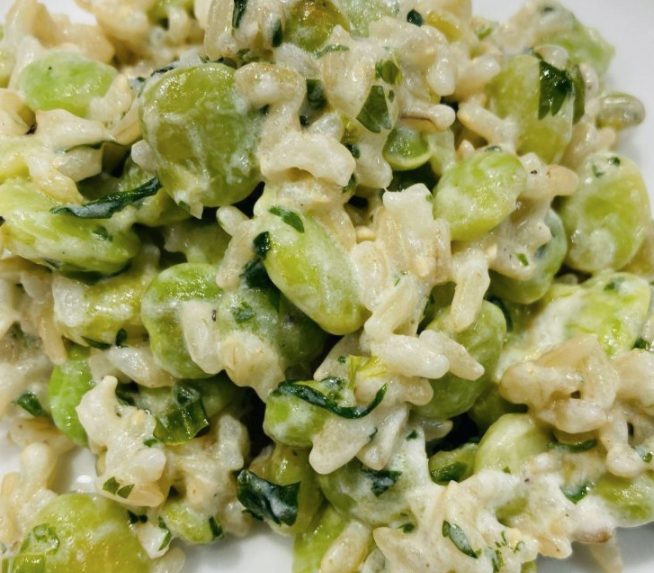 This is really an amazing rice dish. It is so creamy and has an exotic flavor thanks to the tang of the yogurt and cumin. You can use any whole grain in the place of the brown rice. Recipe available on Med Instead of Meds and adapted from Culinary Institutes of America.
Watch this video for a demonstration of this recipe!
Serves: 6
Serving size: 3/4 cups
Prep time: 15 minutes
Cook time: 45 minutes
Total time: 1 hour
Ingredients
3 cups brown rice, cooked, warm
2 Tablespoons olive oil
½ cup green onions, sliced thin
1, 16-ounce bag of lima beans, cooked according to package directions and drained
2 Tablespoons water
¼ cup parsley, chopped
½ teaspoon salt, or to taste
¼ teaspoon black pepper
1 teaspoon ground cumin
¼ cup plain yogurt
A few tablespoons of milk
Fresh parsley for garnish – optional
Directions
Over medium heat, heat olive oil in a medium skillet.
Add the green onions and cook for 1-2 minutes, do not allow it to brown.
Add the lima beans, water, chopped parsley, salt, pepper, and cumin.
Cook for 3-4 minutes.
Remove from heat and add yogurt.
Combine with the cooked brown rice. Add a few tablespoons of milk or more yogurt as needed for dish to be creamy.
Adjust salt and pepper.
Top with parsley, if using.
Nutrition Information per Serving
Serving Size: 1/6th of the recipe
Calories: 270
Carbohydrates: 48 grams
Fiber: 7 grams
Protein: 9 grams
Fat: 5 grams
Sodium: 45 mg
Don't miss another great blog: Subscribe Now