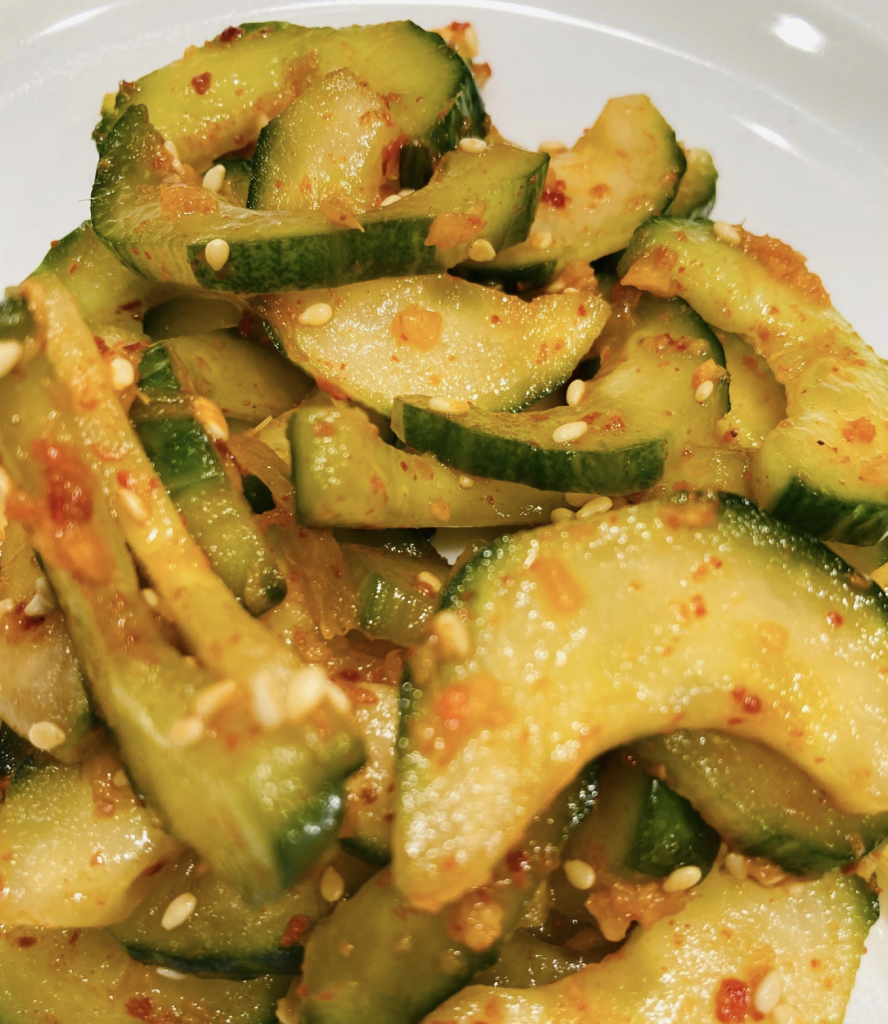 Kim Chi is a staple in the Korean diet. It is usually made with Napa Cabbage and is fermented. It takes several days to make. This recipe is not fermented so it is technically not Kim Chi. It is, however, delicious and is a great side dish with salmon or other fish. It is also good on a sandwich to add some crunch and a bit of heat thanks to the Korean chili powder. Korean chili powder or gochugara can be found in Asian markets or online. If you want more tang or acid in this dish, you can add a bit of rice vinegar or any white vinegar. This dish is designed to be served the same day as the cucumbers will lose their crunch.
Serves: 4 servings
Serving size: ¼ of the recipe, 78 grams
Prep time: 15 minutes
Cook time: 2 hours
Total time: 2 hours and 15 minutes
Ingredients
1 English cucumber
1 teaspoon salt
1 Tablespoon grated ginger
1 teaspoon Korean chili powder (Gochugara)
1 Tablespoon sesame seeds
Directions
Cut the cucumber in half lengthwise and scoop out the seeds using a spoon.
Slice the cucumber into thin slices and place it in a colander in the sink or over a bowl.
Toss the cucumber with the salt and set aside to drain for 2 hours.
Place the cucumbers in a bowl and combine them with the remaining ingredients.
Refrigerate until chilled.
Nutrition Information per Serving
Serving Size: ¼ of the recipe, 78 grams
Calories: 21 calories per serving
Carbohydrates: 1 gram
Fiber: 1 gram
Protein: 1 gram
Fat: 1 gram
Sodium: 299 mg
Don't miss another great blog: Subscribe Now