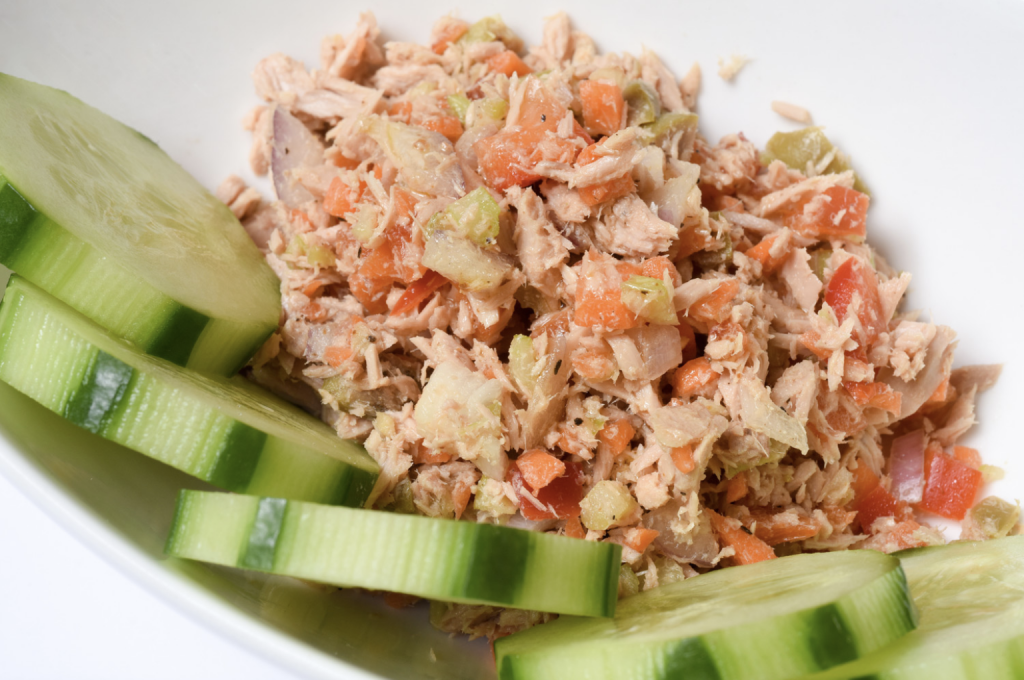 This is an excellent recipe for those hot summer days when you want a nutritious meal or snack but cannot even think about turning on the oven or stove. This recipe amps up the traditional tuna salad recipe you may be used to by adding vegetables and flavor.
Enjoy it as a sandwich, on top of greens, or alongside our Super Tomato Soup and Olive Oil Toast. If serving as a sandwich, use your favorite whole-grain bread and try topping it with a couple of kale leaves and a few tomato slices. Fun tip: Substitute the vegetables suggested in this recipe with your favorites to find your perfect flavor combination.
Serves 4
Serving Size: 1 cup
Prep Time: 15 minutes
Total Time: 15 minutes
Ingredients
2 (5-ounce) cans of tuna packed in water or olive oil, drained and flaked
½ cup minced carrots (approximately 2 carrots)
½ cup minced celery (approximately 2 celery sticks)
½ cup minced yellow bell pepper (approximately 1 small bell pepper – substitute with orange, red or green bell pepper if preferred)
¼ cup minced red onion (substitute with yellow or green onion if preferred)
¼ cup minced olives (substitute with pickles if preferred)
1 tablespoon olive oil
¼ teaspoon black pepper
⅛ teaspoon cayenne pepper (optional)
Salt to taste (optional)
Directions
In a medium size bowl combine the carrots, celery, bell pepper, onion, olives, tuna, and olive oil.
Season with black pepper, cayenne pepper, and salt. Mix well.
Serve as a sandwich on whole-grain bread, on top of salad greens, or alongside our Olive Oil Toast. This recipe also goes great with our Super Tomato Soup.
Nutrition Information per Serving
(Based on tuna packed in water, ⅛ teaspoon cayenne pepper, and ½ teaspoon salt)
Serving Size: 1 cup
Vegetables: ¾ cup
Fruits: 0 cups
Calories: 124 calories
Carbohydrates: 6 grams
Fiber: 2 grams
Protein: 15 grams
Fat: 5 grams
Sodium: 559 mg