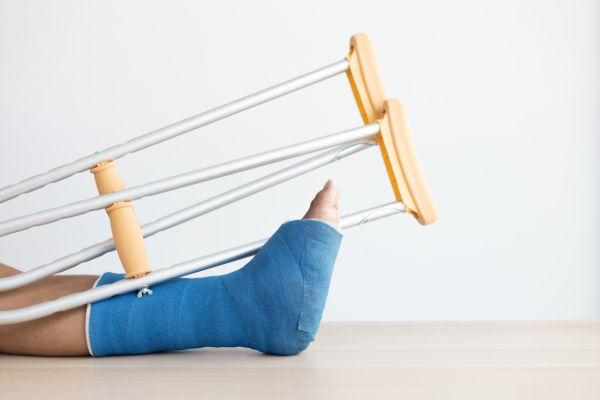 About a month ago, I broke my toe. It's the big toe, and arguably the most important since it's responsible for balance. I went from engaging in over 500 minutes of physical activity a week to maybe 100 minutes, severely restricted by my injury and a walking boot. Pre-injury, I enjoyed daily movement consisting of interval-based cardio and weightlifting, running, and walking. I was aiming for a few weightlifting milestones and training for a 10k.
Not only did I have a great movement routine that brought me joy and was a part of my social life, I had great balance in my nutrition. I planned out different meals every week, fitting in a few times to eat out with friends or family; I knew how many groceries to purchase; I never had to wonder what I would eat for dinner or if I would have time to cook, since I prepared most of my meals and snacks for the week over the weekend. All of a sudden, everything changed and my routine no longer worked for me.
At my initial appointment, my healthcare provider informed me that I would be in a boot for 6-8 weeks. If everything heals properly, I am looking at another 10-12 weeks to full recovery. For me, that means 6-8 weeks with no cardio, only some heavily modified bodyweight workouts, and some upper body weightlifting. This is movement, but not nearly what I was accustomed to. After I am cleared to wear a regular shoe instead of a boot, I will be able to do more, like stationary biking. This is good progress of course, but not the high-intensity, functional cardio movements that were once a part of my routine.
Adjusting to a New Routine Post-Injury
A month in, I have a decent handle on my new physical activity routine, but I am still struggling with my nutrition. It took about 2 weeks for my appetite to "align" with my decreased activity levels. I knew I did not need the same portions to fuel my body since I was not expending the same amount of energy daily. My hunger and satiety cues did not align, and for a week after my injury, I was eating as I had been. Knowing this was not sustainable, I decided to make some changes.
Overall, I eat smaller meals and try to include a high-quality protein source at breakfast, lunch, and dinner. Since it is much more difficult to gauge how much food I need, I buy more shelf-stable foods, like canned tuna and canned fruit stored in water. This way, I do not waste food if I do not eat it in one week. Rather than preparing everything for the week over the weekend, I prepare a couple days' worth of lunches and dinners at a time, and I make my breakfast every morning. I pay much more attention to my hunger and satiety cues. Once I feel just a little bit full, I stop eating. I store leftovers for my next meal, partial meal, or snack. If I do not finish my breakfast, I pack it with my lunch to have at work later in the morning. These strategies help me feel adequately fueled and not over-fueled while I learn to better recognize and honor my hunger and satiety cues.
Our routines change based on life events, natural aging, sickness, or injury. It's not easy to adjust to these changes or establish new routines. Acknowledging what you can control in these scenarios is important because you cannot control everything–even if you wish you could. For example, I cannot control my recovery speed, because my bones can only grow so fast. But, I can take ownership of my new routine, adjust my physical activity, and make healthy nutrition choices as I recover.
If you experience an injury or setback, give yourself grace and time to find an alternative routine. Start slow and don't push yourself to do activities at the level you might have done in the past. Don't forget to be kind to yourself and allow your body time to regain strength and stamina. You may need more recovery time and that is OK. This mindset will allow you to lead a balanced life under your unique circumstances.
Don't miss another great blog: Subscribe Now