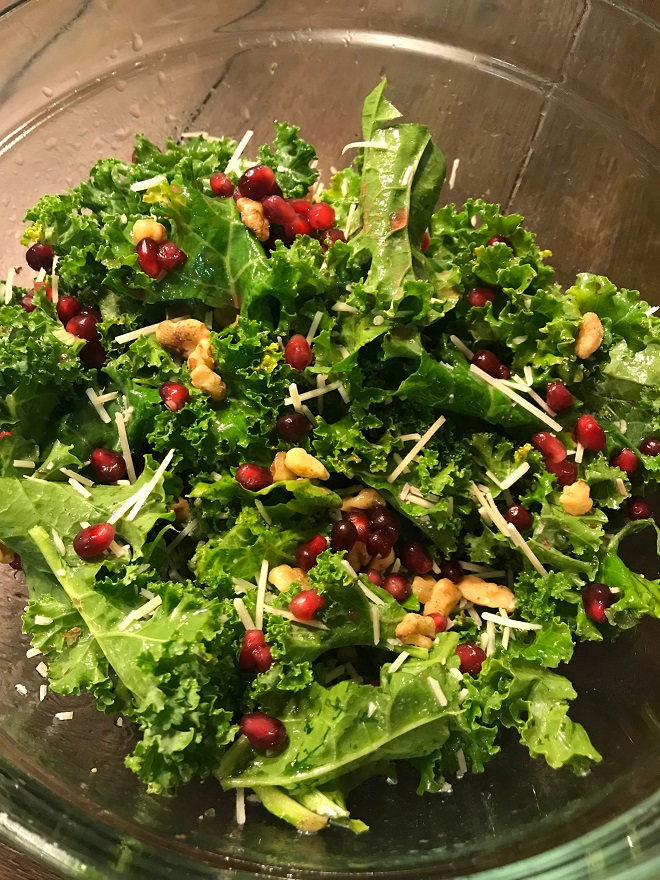 Pomegranate Kale Salad
Servings: 6 to 8
Ingredients:
1 bunch of kale, stemmed and leaves julienned
1/2 cup pomegranate seeds
1 cup toasted walnuts, chopped
Garnish with Parmesan cheese
Dressing:
1/2 cup olive oil
1/4 cup white wine vinegar
2 teaspoons Dijon mustard
1 teaspoon honey
Salt and pepper to taste
Directions:
Place washed and stemmed kale in a large bowl.
In a small bowl, whisk together the olive oil, vinegar, mustard, honey, salt, and pepper.
Pour dressing over kale and toss to coat. Sprinkle the pomegranate seeds, walnuts, and cheese over the salad.
Recipe adapted from Williams-Sonoma.com
You might also enjoy:
Healthy Workplace: Salad Bowl Day
Easy Side Item: Lemon Artichoke and Quinoa Salad
How to Eat Healthy on a Budget
Don't miss another great blog: Subscribe Now