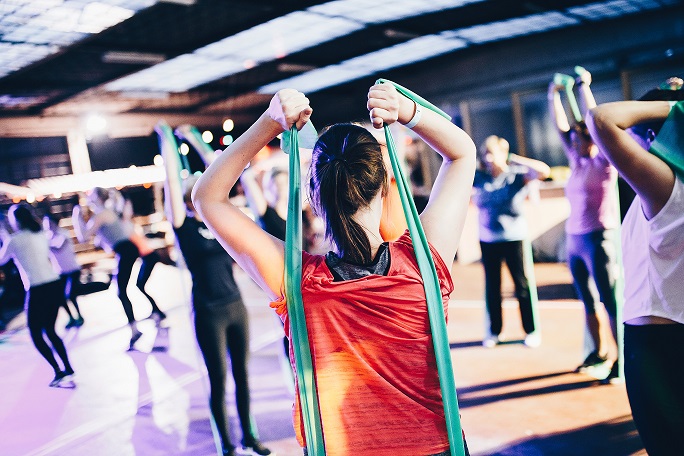 Just a year ago, when I thought of wintertime I pictured drinking hot cocoa, preparing for the holidays and wrapping up in a warm blanket – physical activity certainly was not on the list.
The winter months and the holiday season can bring a distaste for being active. Be encouraged to discover what works best for you so that physical activity can be a part of your daily routine, even you are in stuck indoors.
Try these tips to practice moving more this winter.
Be resourceful – Don't feel discouraged if you lack fancy equipment at home, just use what you already own to compliment your exercises. Stretching is a great way to warm up your muscles and improve flexibility and you can modify stretches by using your bed or a chair. These modifications work perfectly, especially if you don't own a yoga mat or you aren't yet comfortable stretching on the floor. There are several muscle strengthening exercises that can be done if you have light dumbbells (3 or 5 pounds), but if you don't, water bottles or cans of food also work well.
Walk indoors – Take advantage of convenient and spacious buildings to get your walking done when it is too cold to walk outside. Even if you don't belong to a gym, you can walk laps inside your local mall, favorite grocery store or department store, your workplace building, or a local library. Be sure to add stairs into your walk when you can!
Try something different – Last year I decided to try yoga, but I wasn't sure where to begin after purchasing my yoga mat. I searched for videos online until I found a great Youtube channel that provided countless easy-to-follow yoga lessons. Since then, I've found 15-minute full body workout videos and I've also started using a resistance band. I enjoy having a variety of exercises to choose from when I need to workout at home.
Build your activity bank – I always have a plan (my activity bank) for physical activity so that I can cancel all excuses when it is too hot, too cold, raining, or if I'm away from home for several days. This is simply a list of activities or exercises that I am comfortable doing, regardless of the weather or the equipment I have on hand.
You Might Also Enjoy:
Tips for Staying Active, Even When It's Hot Outside
5 Ways to Help Your Employees Stay Active at the Office
Don't miss another great blog: Subscribe Now