During the fall and winter months, I love to pull out my crockpot and try a variety of recipes. Most of the recipes I will choose are very simple to prepare and easily transfer to a gallon freezer bag to save the days when I am too busy to cook dinner. Try Crockpot Mexican Quinoa Tacos – full of flavor, simple to prepare and convenient for lunch or dinner. This dish provides plant-based sources of protein (quinoa and black beans), which is a component of eating the Mediterranean way.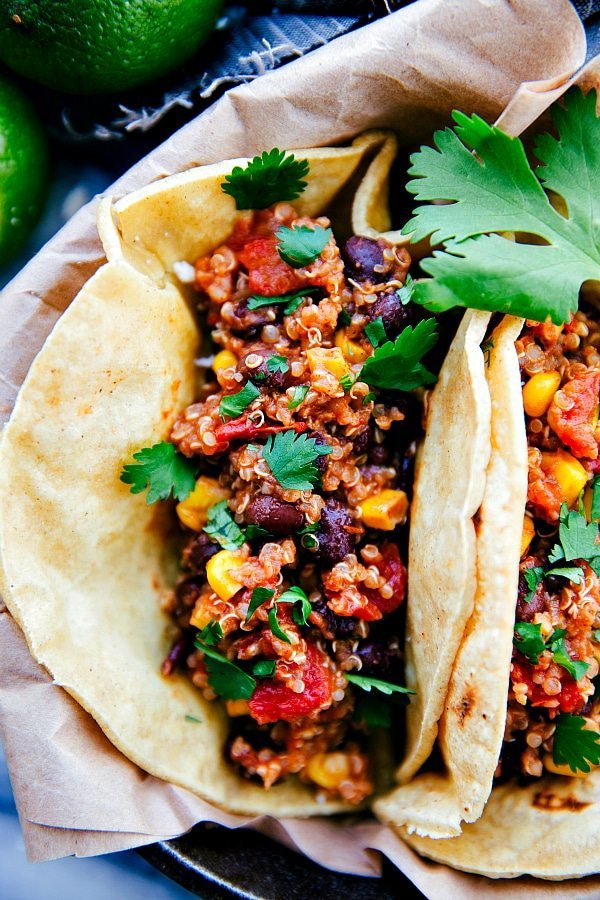 Crockpot Mexican Quinoa Tacos
Prep Time: 5 mins
Cook Time: 3 hrs
Servings: 6-8
Ingredients
1 cup quinoa
1 cup chicken stock or vegetable broth
2 cans (15 ounces EACH) black beans
1 can (14.5 ounces) diced tomatoes in tomato juice
1 can (10 ounces) enchilada sauce
1 can (15 ounces) corn
3 tablespoons or 1 packet (1.25 ounces) taco seasoning
Corn tortillas
Top with your favorites: diced avocado, cilantro, fresh lime
Instructions
Rinse the quinoa in a fine mesh sieve to remove bitter saponin coating.
In a large crockpot (I use a 6-quart crockpot), add in the quinoa, chicken stock (vegetable broth to keep vegetarian), drained and rinsed black beans, undrained diced tomatoes in tomato juice, enchilada sauce, drained corn, and taco seasoning.
Cover and cook on high 2.5 hours to 4 hours depending on the heat of your slow cooker.
Important notes with cooking quinoa in the slow cooker: slow cookers cook at different temperatures! You'll want to watch this carefully if you have a slow cooker that runs hot so the quinoa doesn't get mushy. This recipe doesn't work on low because quinoa will get mushy when cooked on low for long time periods.
When quinoa is cooked through, serve on corn tortillas and top with your desired toppings.
Garnish with a squeeze of fresh lime, cilantro, and a diced avocado!
Adapted from: Chelsey's Messy Apron
You Might Also Enjoy:
Mexican Casserole with Roasted Corn and Peppers
Don't miss another great blog: Subscribe Now