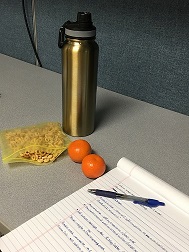 There is nothing wrong with a midday snack, but if you need one, choose wisely. Your snack should be filling, low in sugar, and keep you energized.
Consider the following snack ideas, which are items that can be easily stored in your lunchbox, desk drawer at work or in your car for the ride home:
Individual packs of assorted nuts or seeds that are not heavily salted or flavored (walnuts, almonds, peanuts, sunflower seeds).
Whole grain cereal (plain bran cereal, plain Cheerios, etc.) and a piece of fruit (banana, apple orange, single serve no sugar added applesauce, etc.)
Individual packs of air-popped popcorn
Small servings sizes of dried fruit (dried apricots, raisins, prunes, dried mango)
Low-fat string cheese and lightly salted whole grain crackers
A great idea is to be the snack time hero for your coworkers by creating a healthy snack station for the office!